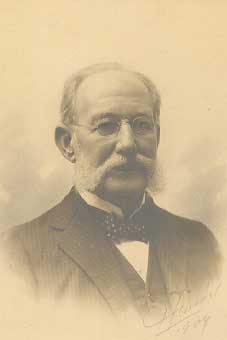 Carlos Juan Finlay
(1833-1915)
JMC Class of 1855
Finlay's greatest triumph was his identification, in 1881, of the mosquito as the carrier of yellow fever. His hypothesis was proven nearly twenty years later by the Walter Reed Commission of 1900. On the strength of this discovery yellow fever was effectively eradicated, making possible the completion of the Panama Canal and saving countless lives throughout South America, the Caribbean, Africa and the southern U.S. In the words of General Leonard Wood, a physician and military governor of Cuba in 1900:
"The confirmation of Dr. Finlay's doctrine is the greatest step forward made in medical science since Jenner's discovery of the vaccination."
Born Juan Carlos Finlay on 3 December 1833 in Cuba, he changed his name later in life. Finlay received his education in France and Germany. He attempted to attend medical school at the University of Havana but was refused since he had not received his preliminary education there. Instead he choose Jefferson Medical College where he attended from 1853 until his graduation in 1855.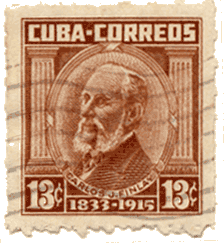 Commemorative postage stamp issued by Cuba in honor of Carlos Juan Finlay, 1933. (Carlos Juan Finlay Collection, MS 17)
While at Jefferson, Finlay met S. Weir Mitchell who became Finlay's preceptor, advisor, and friend. When Finlay left Philadelphia, Mitchell presented Finlay with a top quality binocular microscope - a rarity at the time. Finlay changed his name around ____.
After several years of study abroad, Finlay began his own medical practice in Havana in 1864. However, Finlay also found time for research and study - particularly in the area of yellow fever. Between 1865 and 1881 Finlay produced ten papers on yellow fever. By 1881, Finlay had determined that the Aedes Aegypti mosquito was the transmitting agent for yellow. But it would take almost 20 more years before the Reed Commission of 1900 would prove his hypothesis.
Finlay became the first Director of Health of the Republic of Cuba in 1902 a position he held until 1909. In 1905-1907 and 1912-1915 Finlay was nominated, and a serious contender, for the Nobel Prize in either Physiology or Medicine. In addition, Finlay was one of five Jeffersonians whose names were inscribed on the Winged Ox column dedicated at Jefferson in 1976.
Carlos Juan Finlay died at the age of 82 in 1915.