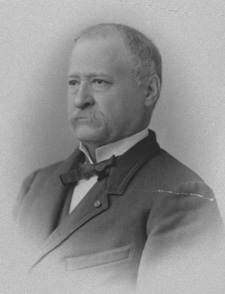 William S. Forbes
(1831-1905)
JMC Class of 1852
An ardent student of anatomy and surgery, William S. Forbes is mainly remembered today as the "Father of the Anatomical Act" in Pennsylvania. Forbes began his medical studies at the University of Virginia and eventually he attended lectures at medical colleges on two continents. In addition, he received the MD degree from both Jefferson Medical College (1852) and the University of Pennsylvania (1866).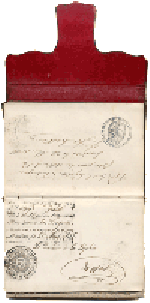 William S. Forbes' passport, 1855. (William S. Forbes Collection, MS 19)
In 1855, Forbes served as an assistant surgeon for Great Britain during the Crimean War and worked with Florence Nightingale. During the Civil War, Forbes served as a surgeon in the United States Volunteers serving under General Grant during the siege of Vicksburg, as medical director of the Thirteenth Army Corps, and later as a contract surgeon at the Summit Hospital in Philadelphia.
As a result of his military service, Forbes developed a staunch belief in the importance of dissection and the detailed study of anatomy. In 1866, he presented the Pennsylvania State Legislature with his version of a law to provide bodies to medical schools in a fair and legal manner. Eventually on 18 March 1867, the Legislature passed the Armstrong Act commonly known as the "Ghastly Act." Later amended and strengthened, the 1883 Anatomy Act formally created a board to regulate the distribution of bodies to Pennsylvania schools.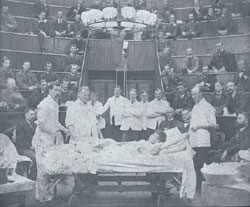 Forbes clinic, Jefferson Medical College Hospital, ca. 1890-1891. (Art/Photo Collection, C1-007)
Appointed Demonstrator of Anatomy at Jefferson Medical College in 1879, in 1886 Forbes received an appointment as Professor of Anatomy. During his tenure at Jefferson, Forbes expanded the curriculum, published much of his significant research, and became one of the most popular teachers at the Medical College.

In the last year of his life, Forbes' contributions to medicine were formally acknowledged by his two alma maters. The Alumni of the Medical Department of the University of Pennsylvania presented Forbes a silver Loving Cup in appreciation of his services to the cause of medical science.
Students from the 1905-1908 classes at Jefferson Medical College commissioned a portrait of Forbes by Thomas Eakins. The portrait was presented, along with the Loving Cup, at the 80th commencement of Jefferson Medical College in June 1905.
Forbes died a few months later on 17 December 1905.