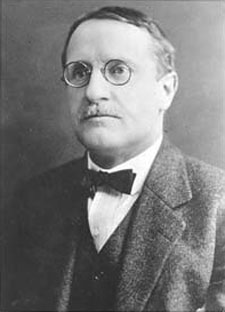 John Chalmers Da Costa
(1863-1933)
JMC Class of 1885
John C. Da Costa (no relation to Jacob Mendes Da Costa) was the successor to W. W. Keen as the chair of the Jefferson Medical College Department of Surgery in 1907 and, in 1910, became the first Samuel D. Gross Professor. His skills as a teacher of surgery were unsurpassed, and his Wednesday afternoon clinic in the amphitheater before the combined junior and senior classes became a memorable event.
Born on 15 November 1863 in Washington D.C. the Da Costa family moved to Philadelphia when Da Costa was fifteen. Da Costa entered the University of Pennsylvania at the age of seventeen where he studied chemistry for two years. He then matriculated at Jefferson Medical College and graduated, as class valedictorian, in 1885. After Da Costa's residency at Blockley (Philadelphia Hospital), he took a position at the Insane Department of the Hospital and followed that with a position at the Pennsylvania Hospital for the Insane (also known as "Kirkbride"). Then in 1887, Da Costa began his academic career at Jefferson Medical College with an appointment as Assistant in the surgical outpatient department and as Assistant Demonstrator of Anatomy. This began an affiliation that would last for over forty years.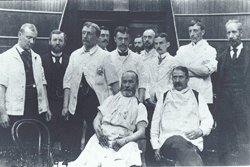 Outpatient Surgery Department, Jefferson Medical College, 1894. (Art/Photo Collection, C1-005)
While at Jefferson, Da Costa wrote Modern Surgery, General and Operative (1894) a work that became a classic throughout U.S. medical schools going through ten editions; the last in 1931. Da Costa also became active in the Jefferson Alumni Association and served as president from 1908-1909. During World War I, Da Costa served as a junior lieutenant in the Navy and eventually rose to the rank of commander. In 1919, Da Costa sailed on the George Washington on a special mission to tend to ailing U.S. President Wilson during negotiations for the peace treaty of World War I and the League of Nations. But it was Da Costa's lectures in the "pit" that students remembered years afterward. Mixing history and literature into his lectures, Da Costa was also remembered for numerous pithy aphorisms such as
"A surgeon is like a postage stamp. He is useless when stuck on himself."
"Some men are like an electric button and won't do any work unless they are pushed."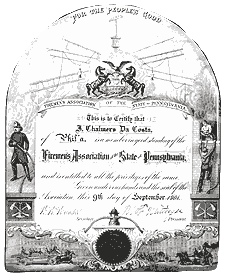 Membership certificate, Firemen's Association of the State of Pennsylvania, 1901. (John C. Da Costa Collection, MS 16)
Da Costa also held a life-long interest in the Philadelphia Fire Department probably due to his father and uncle's membership in volunteer fire departments. Whenever he could, Da Costa would ride out with the Fire Chief in order to render aid to injured firemen. In addition, he served for over 30 years as surgeon to the Firemen's Pension Fund.
In 1931, Da Costa was awarded a diamond-studded badge that designated him as an honorary Deputy Fire Chief. By this time, Da Costa had become crippled from rheumatoid arthritis and confined to a wheelchair.
Da Costa died at home in his library on 16 May 1933 at the age of 69.