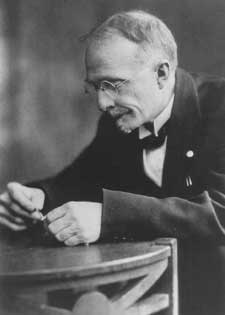 Chevalier Jackson
(1865-1958)
JMC Class of 1886
One of the foremost figures in the field of laryngology, Jackson developed the method for the removal of foreign bodies from the lungs and other passages by insertion of tubes through the mouth. For these purposes he devised first an esophagus scope and later a bronchoscope. In his Philadelphia bronchoscope clinic he trained numerous students and physicians in his techniques. Jackson also contributed to the development of laryngeal surgery.
Born in 1865, Jackson grew up in a family hit hard by poverty. At an early age, he learned woodworking skills and later the decoration of china and glassware in order to bring in money. In this way, Jackson earned the funds necessary to enter Western University of Pennsylvania (later the University of Pittsburgh) and Jefferson Medical College, where he graduated in 1886.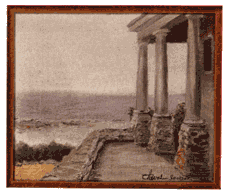 "The Old Shoe," oil and palette knife, 1912. Jackson, Chevalier, The Life of Chevalier Jackson. The MacMillan Company, 1938.
After graduation, Jackson began his practice in Pittsburgh and almost immediately decided to specialize in laryngology. He read extensively and also attended the clinics presented by Drs. Jacob Solis-Cohen, Charles E. de M. Sajous, and Louis Jurist. Following a brief attendance at various European clinics as well as those of the British specialist Sir Morell McKenzie, Jackson returned to Pittsburgh. Here he developed an interest in the removal of foreign bodies in the esophagus and the tracheobronchial tree.
This interest led to Jackson's invention of several instruments to aid his removals. By 1907, Jackson had published his standard work Tracheobronchoscopy, Esophagoscopy and Gastroscopy. His growing reputation led in 1910 to his election as Professor of Laryngology at the University of Pittsburgh.
The discovery in 1911 that Jackson suffered from pulmonary tuberculosis dealt a blow to his career. Regarded as a disease in its early stage, he limited his activities, but nevertheless in 1913 he suffered a pulmonary menorrhage that required complete rest. However, Jackson used this time to produce another major work, Peroral Endoscopy and Laryngeal Surgery.
In 1916, Jefferson Medical College offered Jackson the Professorship of Laryngology and by 1924, he achieved the position of Professor of Bronchoesophagology and Department Head. In addition, parallel appointments at the University of Pennsylvania Graduate School, Temple University, and the Women's Medical College of Pennsylvania provided Jackson with simultaneous involvement at five medical schools.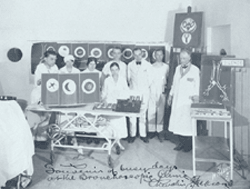 Chevalier Jackson with staff at the Bronchoscope Clinic, 1927. (Art/Photo Collection, AJ-002)
During the 1920s, Jackson also began a crusade to spread knowledge of preventive measures in order to protect children from inhaling foreign objects. He also campaigned for the passage of a federal law to control hazardous substances available to children. This led to the passage of the Caustic Act of 1927, which required labels on all poisonous substances.
Jackson's career at Jefferson ended with his mandatory retirement in 1930 at the age of 65. However, Jackson continued his association with Temple University and the Women's College, his involvement with various medical societies, and his writings.
Jackson died on 16 August 1958 at the age of 93. His obituary from the American Medical Association described him as "one of the greatest, if not the greatest of laryngologists of all time."
Some of Jackson's work has been memorialized in a book, "Swallow: Foreign Bodies, Their Ingestion, Inspiration, and the Curious Doctor Who Extracted Them," by Mary Capello. Jefferson archivist Michael Angelo participated with the author in an interview about Dr. Jackson for the WHYY radio program Radio Times (March 2011). Listen to the interview (mp3).