William Williams Keen
(1837-1932)
JMC Class of 1862
As a member of the Jefferson Medical College faculty from 1866 to 1907, W.W. Keen's stature in the field of surgery was nearly as exalted as that of Samuel. D. Gross, but in company of William Halsted and Harvey Cushing. (It is sometimes said that Gross, as "The Emperor of American Surgery," was succeeded by three "Marshalls," Keen, Halsted and Cushing.)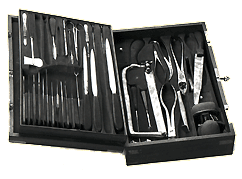 Surgical Kit. (William W. Keen Collection, MS 22)
A graduate of Philadelphia's Central High School and Brown University (1859), Keen studied medicine at Jefferson Medical College and received his MD in 1862. Commissioned an acting Assistant Surgeon for the US Army, Keen's Civil War service centered on Turner's Lane Hospital in Philadelphia where he assisted S. Weir Mitchell. Eventually Keen's activity as a U.S. Army surgeon spanned the Civil War to World War I (his services were declined during the Spanish-American War).
From 1864-1866 Keen studied in Europe and upon his return to Philadelphia began teaching pathological anatomy at Jefferson where he remained until 1875. He then formed the Philadelphia School of Anatomy and taught surgical anatomy there until 1889 when he was appointed Professor of Surgery at Jefferson. With John Hill Brinton, Keen taught artistic anatomy at the Pennsylvania Academy of the Fine Arts and became professor of surgery at the Women's Medical College of Pennsylvania.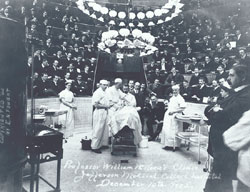 Keen clinic, surgical amphitheater, Jefferson Medical College, 10 December 1902. (Art/Photo Collection, C1-004)
Keen gained worldwide attention for several of his innovative procedures including drainage of the cerebral ventricles and several successful removals of large brain tumors. In 1892 Keen, with James White, wrote the first American surgery text based on Listerian principles. This work was later superseded by Keen's Surgery its Principles and Practices that became the "Bible" of American surgeons. Keen is also known for having assisted in the now famous secret operation performed on then-President Grover Cleveland in 1893. While the operation was initially undertaken without the public's knowledge, in 1917 Keen wrote a detailed description of the procedures used on Cleveland.
Even after his 1907 retirement from Jefferson, Keen remained active in the medical field as emeritus Professor of Surgery and as a spokesperson for various causes including the theory of evolution and the importance of animal experimentation.
William W. Keen died in Philadelphia on 7 June 1932 at the age of 95.