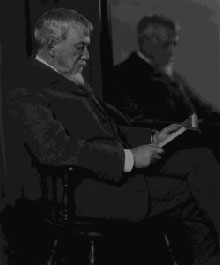 S. Weir Mitchell
(1829-1914)
JMC Class of 1850
A noted experimental physiologist sometimes called the "Father of Neurology," Silas Weir Mitchell was the son of John Kearsley Mitchell, professor of medicine at Jefferson Medical College from 1841-1858. While renowned as a clinician and neurologist, S. Weir Mitchell was also celebrated as an author as famous for his novels and poetry as for his contributions to medical literature.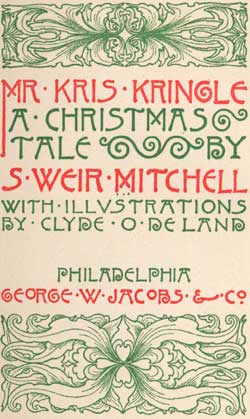 S. Weir Mitchell. Mr. Kris Kringle; a Christmas tale. Philadelphia: Jacobs.
Educated at the University of Pennsylvania, Mitchell received his MD from Jefferson Medical College in 1850 and followed that with study in Europe until 1851. Upon his return to the United States, Mitchell began his private practice and research in Philadelphia, interrupted by his service as an Army Surgeon in various Philadelphia hospitals during the Civil War.
Mitchell's medical studies during his lifetime ranged from nerve injuries to sleeping disorders, from ailuophobia (morbid fear of cats) to snake venom, and from the physchological effects of amputations to reflex paralysis. In addition, Mitchell introduced the use of inhalations of nitrite of amyl to check epileptic seizures. But he gained world-wide recognition for his "rest cure" for women, outlined in his book Fat and Blood (1884), that involved total bed rest, isolation, massages, and a rich, high calorie diet. The feminist writer Charlotte Gilmore Perkins, a one-time patient of Mitchell's, loosely based her protagonist's treatment in the Yellow Wallpaper on her own experiences with Mitchell.
While Mitchell wrote poetry and prose during most of his adult life, it was not until the late 1890s that it began to overtake his medical writings. At the end of his life, he became quite well known for his "romantic" historical novels. Some of Mitchell's more popular works of fiction included Hugh Wynne, Free Quaker and Roland Blake.
Mitchell died of influenza in Philadelphia on 4 January 1914.