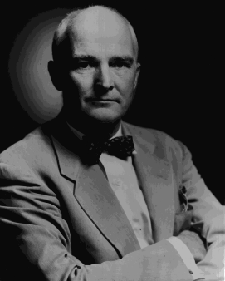 John H. Gibbon, Jr.
(1903-1973)
JMC Class of 1927
Professor of Surgery and Director of Experimental Surgery at Jefferson Medical College as well as Samuel D. Gross Professor and Chairman of the Department of Surgery, John H. Gibbon opened a new era in the history of cardiac surgery by developing the first heart-lung machine and performing the first successful surgery with it on 6 May 1953.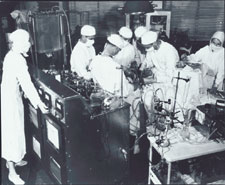 John H. Gibbon and operation with heart-lung machine, u.d. (Art/Photo Collection, AG-054)
A fifth generation physician, John H. Gibbon was born in Philadelphia on 29 September 1903. A 1923 graduate of Princeton University, Gibbon received his MD from Jefferson Medical College in 1927 and completed his internship at Pennsylvania Hospital in 1929. It was during his research fellowship at Harvard in the early 1930s that Gibbon initially conceived the idea of an apparatus that could temporarily assume the functions of a patient's heart and lungs. He expanded this idea and began his research in the mid-1930s while a Harrison Fellow of Surgical Research at the University of Pennsylvania.
The start of World War II, and Gibbon's subsequent army service in the China-Burma-India Theater, temporarily interrupted his research. In 1946, after the war, Gibbon resumed his academic career at Jefferson as Professor of Surgery and Director of Surgical Research. Several years of research and successful work with cats and dogs prepared the heart-lung machine for a human subject. On 6 May 1953, Gibbon successfully repaired a defect in the heart of Cecelia Bavolek, an 18-year-old girl from Wilkes-Barre, Pennsylvania. Connected to the pump oxygenator for 45 minutes, for 26 of those minutes, the machine completely supported all of her respiratory and circulatory functions.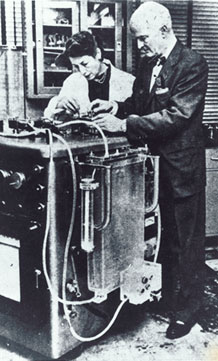 John H. Gibbon, Mary H. Gibbon and heart-lung machine, u.d. (Art/Photo Collection, AG-054)
While always known for the heart-lung machine, Gibbon made several other clinical contributions. Editor of the Annals of Surgery and author of Surgery of the Chest, Gibbon was active in and received awards and recognition from numerous medical societies in the U.S. and abroad. In addition, Gibbon held the position of Samuel D. Gross Professor and Chairman of the Department of Surgery at Jefferson from 1946-1967. The Jefferson Medical College class of 1963 presented his portrait to the school and students also honored Gibbon by renaming the Keen Surgical Society (previously the Gross Surgical Society) the Gibbon Surgical Society.
Gibbon retired from Jefferson in 1967 and died on 5 February 1973, just short of age 70 and a few months prior to the 20th anniversary celebration of his eventful operation.
In 1990, Jefferson paid Gibbon a posthumous honor by renaming the new Thomas Jefferson University Hospital the Gibbon Building.