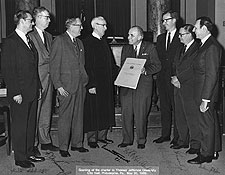 Granting of the charter to Thomas Jefferson University, City Hall, Philadelphia, PA, 20 May 1969. (Art/Photo Collection, C16-005)
Becoming a University
The formation of the School of Allied Health Sciences in 1966 began a move toward the integration of other health professions into the Jefferson curriculum. However, Jefferson's past already included a long association with clinical and scientific research as well as nursing.
In 1891, Jefferson created the Jefferson Hospital Training School for Nurses.
By 1949, Jefferson Medical College included advanced degrees in anatomy, bacteriology, immunology, etc in its curriculum.
Both of these activities laid the foundation for the creation of Thomas Jefferson University in 1969.
The new charter established the University and its component parts: Jefferson Medical College (now the Sidney Kimmel Medical College), the College of Allied Health Sciences (now the Colleges of Health Professions, Nursing, and Rehabilitation Sciences), the College of Graduate Studies, and Jefferson Medical College Hospital (now Jefferson Health).