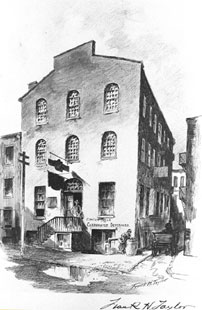 Tivoli Theater. (Art/Photo Collection, C11-011)
Early Homes
McClellan, and by extension the Jefferson Medical College, emphasized clinical instruction as an important part of a physician's education.
The school's first home, in the old Tivoli Theater on Prune Street, set aside a series of rooms to receive patients. This establishment of a dispensary to treat patients under student observation was the first instituted by any medical school in the United States.
Eventually all medical colleges adopted this model of combining lectures with practical experience. Later affiliations with the Philadelphia Hospital (Blockley) and the Pennsylvania Hospital provided students with additional facilities for instruction.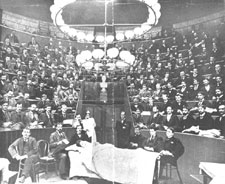 A surgical clinic in the Jefferson Medical College Hospital "Pit," ca. 1900 (Art/Photo Collection, C1-013)
With the growth of Jefferson Medical College and increased class size, the school soon needed more room. The creation of the Ely Building in 1828 provided space for a lecture hall in the lower floor and an amphitheater for operations in the upper half. After the construction of Jefferson's first detached hospital in 1877, clinical lectures and surgeries were held in the "pit."
This building, Jefferson's first free-standing hospital and the second hospital in the nation to be connected to a medical school, featured a 700-seat operating amphitheater. It admitted 441 inpatients and treated 4,659 outpatients during its first year of operation.