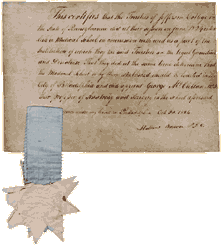 Charter establishing the Department of Medicine for Jefferson College, 1824.
Establishing a School
In 1824, McClellan and others petitioned Jefferson College at Canonsburg to add a medical school. While technically part of Jefferson College, Jefferson Medical College was located in Philadelphia with administrative and financial responsibility in the hands of the faculty.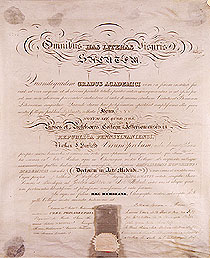 Diploma of Nathan L. Hatfield, 1826.
Although challenged by the University of Pennsylvania, in 1826 the Pennsylvania Legislature passed a bill that ratified the actions of Jefferson College. This allowed the College to grant medical degrees to its students.
For Jefferson's first graduating class, twenty individuals received the MD degree in a ceremony held on 14 April 1826 at the Tivoli Building on Prune Street.
Nathan L. Hatfield, the recipient of the diploma pictured here, became a prominent physician in Philadelphia. He served on the staff of the Philadelphia Hospital, as president of the Board of health in 1845 and also as president of the County Medical Society in 1865. Dr. Hatfield died on 29 August 1887.
By 1838, Jefferson Medical College gained its own independent charter and severed its ties with Jefferson College.