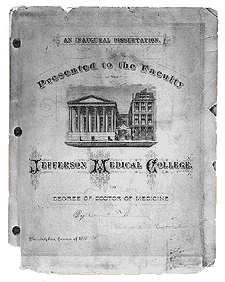 Dissertation submitted by Howard Palm, 1881. (Howard F. Palm Collection, MM 391)
Graduation Requirements
Jefferson, and the medical profession, placed its emphasis on graduation, not entrance, requirements. To receive the MD degree, applicants were required to be:
21 years of age,
have attended two courses of lectures,
studied three years with a preceptor,
have written a thesis, and
passed an oral or written examination given by the faculty.
Only then would students receive the coveted Pass Notice.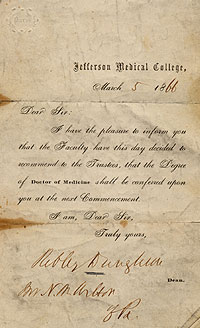 Pass notice sent to N.M. Wilson by Dean Robley Dunglison, MD, 1866. (N.M. Wilson Matriculation Card Collection)
For the first time on 12 March 1870, the Medical College held its commencement at the American Academy of Music (which opened in 1857). With the exception of a few years when the Academy was undergoing renovations or construction, all graduation ceremonies since then have been held at the Academy. During March of this same year, Samuel D. Gross brought together a committee of five men to establish an alumni association. Chaired by Nathan Hatfield, a graduate of the first class in 1826, the group founded the Jefferson Medical College Alumni Association that still exists today.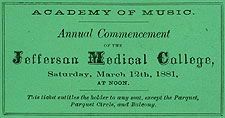 Commencement ticket for the Class of 1881. (John T. Howell Collection, MM 263)