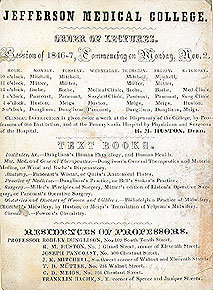 Order of Lectures for Jefferson Medical College, 1846-1847. (John C. Hupp Matriculation Card Collection)
A Course of Lectures
In the beginning, a year's session of lectures ran from mid-October through February. By 1847, the College extended lectures to run through March. Lectures covered areas of: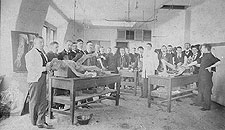 Anatomy dissection scene, ca. 1894. (Art/Photo Collection, E-011)
Practice of Medicine
Anatomy
Chemistry
Materia Medica
Institutes of Medicine
Principles of Surgery
Practice of Surgery
Obstetrics
The anatomy classes included lectures in addition to laboratories for human body dissections.
At a cost per lecture of $15, a full year session for all lectures totaled $120. Additional charges included a $5 matriculation fee and $30 for the diploma.