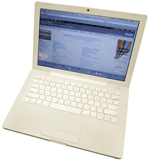 You may check out a Macbook from the Scott Library 2nd floor Service Desk for a single day (to be returned one hour before closing on the same day). Using your student wireless account, the laptop computers will provide access to the Internet from the library and most classrooms on campus. If you need assistance with your wireless setup, please call the IS&T Solution Center at 215-955-7975.
Laptops are available for lending to individuals or for reservation to support courses and workshops.
To check out a laptop computer, you will need your Jefferson photo ID card and you will be required to sign an agreement stating that you understand the policies for use of the laptop computers.
The Learning Resources Laptop Agreement
Laptop computers are available for loan to members of the Jefferson community (students, faculty, and staff). A Jefferson photo ID card is required to check out a laptop computer, and the borrower is expected to follow the following policies. The borrower will be held financially responsible for the laptop computer and will be fined for any repairs or replacement of the computer or its components.
Keep all food and drink away from the laptop computer.


Keep the laptop computer with you at all times. The borrower of the laptop computer is responsible for its replacement cost if it is stolen. Therefore, it is critical that the laptop never be out of sight of the person who borrowed it.


Do not install software. Anyone found to have installed software will lose future laptop borrowing privileges. Copying software from this computer is prohibited. (Per the TJU Electronic Communications and Information Policy.)


Return the laptop to the 2nd floor Circulation Window at least one hour before the Library closes. Any laptop computers not returned to the 2nd floor Circulation Window on the day it is borrowed will be assessed an additional $25 fine. The borrower is responsible for any and all damage.
Loan period: 1 day (must be returned 1 hour before closing on the day it is borrowed)
Overdue fine: $75/per day