CTL Workshop Tracks: Earn Micro-Credentials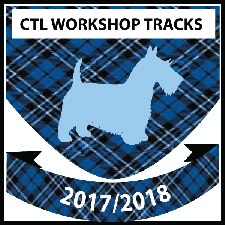 Attend the required number (see below) of workshops in one of the six series ("tracks") below to earn a Center for Teaching & Learning micro-credential (which we're calling a "Scottie," in honor of Scott Memorial Library) for that track. Completion of a credential is not required, however, and participants are invited to attend any individual session(s) of interest across these series.
Active Teaching & Learning
This seven-part series explores active learning from multiple perspectives, including: the basic principles of active learning; using educational technologies to increase engagement; and integrating active learning principles into classroom activities, assignments, and course design.
Assessment
This workshop series provides the opportunity to review the essentials of assessment and presents a more in-depth focus on specific elements of testing such as the importance of formative assessment, feedback and ways to improve test writing skills.
Communicate Like a Pro: Think Like a ________
This eight-part series focuses on improving communication and presentation skills. Each workshop will focus on a finite skill required for effective communication. The interactive and experiential workshops will include mini-lectures, activities, and application exercises.
Course Transformation & (Re)Design
This series focuses on evidence-based course design principles that help and hinder learners. The course design principles address courses taught in face-to-face, online, and hybrid environments. These workshops will assist course developers in identifying key areas of differences in the learning environment and strategies for responding to those differences. Several of the workshops focus on key changes to consider when transitioning from a face-to-face or hybrid environment to a fully online course.
LMS Basics & Beyond
This series provides primer on how the LMS can be used to enhance the learners' experiences. Workshops in this series focus on communicating (and using) grading standards, course collaboration tools, and using the virtual environment for synchronous class sessions.
Preparing for Publication
This workshop series provides strategies and techniques to cultivate a successful writing practice as well as tools for identifying appropriate venues for publishing one's work and help making sense of journal submission guidelines for manuscripts and associated images.