Gutman Library was built in 1992 to replace the Pastore Library (now the Architecture & Design School). Noted architectural firm, Shepley Bulfinch, created the building design. In 1993, the 54,000 square foot library received the Louis I. Kahn Award for the best-designed academic building from American School and University, a national publication.
Floor Maps
Check out our floor maps to find out what is available on each floor of the library:
Ground Floor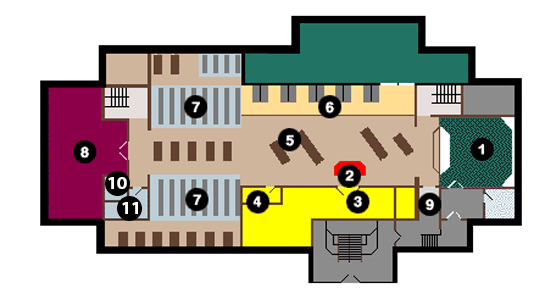 (1) Media Classroom
(2) Technology Help Desk
(3) Media Services Department
(4) Color Copier/Printers (black & white and color, 8.5 x 11)
(5) Media Equipment Area
(6) Microfilm/Microfiche Area and Readers/Printers
(7) Bound Journals/Periodicals
(8) Special Collections
(9) Elevator*
(10) Women's Restroom
(11) Men's Restroom
First Floor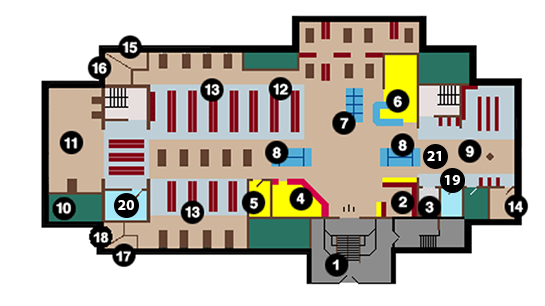 (1) Main Entrance
(2) Newspaper/New Book Lounge
(3) Elevator*
(4) Checkout Counter
(5) Photocopiers
(6) Reference Desk
(7) InterLibrary Loan Department
(8) MACs and PCs
(9) Current Periodicals
(10) Director's Office
(11) Library Instruction Space
(12) Reference Books (numbers 001-999)
(13) Circulating Books (numbers 001 - 659)
(14) Room 101, Group Study
(15) Room 113
(16) Room 114
(17) Room 115
(18) Room 116
(19) Men's Restroom
(20) Womens' restroom
(21) Printers (black & white, 11x17 and 8.5x11)
Second Floor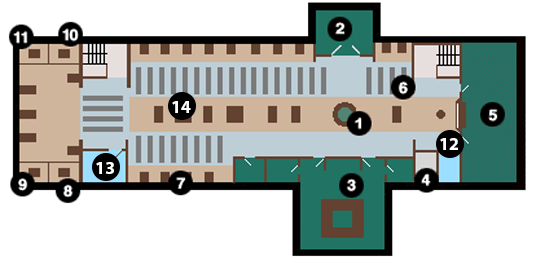 (1) Lab Computers
(2) Rena Rowan Reading Room
(3) Downs Board Room
(4) Elevator*
(5) Technical Services
(6) Circulating Books (begins 660)
(7) Circulating Books (ends 999)
(8) Private Office
(9) Private Office
(10) Private Office
(11) Study Room 214
(12) Men's Restroom
(13) Women's Restroom
(14) Printers (black & white and color; 8.5x11 and 11x17)
Quiet Floors and Zones
The upper and lower levels of the library are designated quiet floors
Group and Individual Study Rooms
Six group study rooms equipped with table, chairs, and power outlets
Rooms 214 and 101 are equipped with monitors for projection from your laptop
Rooms may be used for up to four hours (and longer if no one else is waiting for a room)
To request a group or individual study room, visit the circulation desk and show your current university ID card. Rooms are available on a first-come, first-served basis.
Photocopiers, Printers, and Scanners
Black & white copiers
Located in the copy room on the main floor of the library and on the lower level by the printers
Cost: Using a Jefferson ID card (debit), 8 1/2"x11" B&W copies cost $.10 per sheet; $.15 if cash is used. 11"x17" B&W copies are $.20 (debit) or $.30 (bill or coin)
Color copier
Located in the main copy room near the circulation desk on the main level
Paper sizes: 8 1/2 x 11" paper and 11"x 17" paper
Cost: Price per copy is $.50 (debit or cash)
Computer Printing (public workstations and laptops)
Color and Paper sizes: B&W and color; there are printers on both the main and lower levels that allow printing on 11" x 17" paper. On the main floor, select the main floor 11x17 printer. Color printing is on the lower level only
Printing Limit: Print up to 500, B&W pages for free each semester
Cost: Free until you print more than 500 B&W pages. Printing in color requires funds on your campus card; Color prints cost 49¢/page for 8.5x11 and 99¢ for 11x17
Scanners are attached to various PCs and MACs in the library. If you need help with scanning, watch this instructional video.
Past Libraries
Want to learn more about Gutman Library's history and architecture? Read about the previous libraries at the East Falls campus (formerly libraries of Philadelphia University).