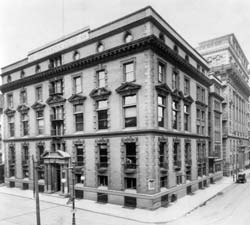 College Building (built 1898), ca. 1910
Viewed from the corner at
Walnut and 10th Streets.
Jefferson Hospital is behind and to the
right of the College Building.


Beginnings…
The story of early African American physicians begins in 18th century Philadelphia with James Derham, who is recognized as the first black allopathic (regular, non-sectarian) medical doctor. Derham was born a slave in Philadelphia in 1757 and was owned by a succession of three white doctors. After buying his freedom, he practiced there (with the encouragement of the signer of the Delaration of Independence, Dr. Benjamin Rush) and in New Orleans.
The first medical school in the U.S. to admit an African American was Rush Medical College in Chicago, awarding David J. Peck an MD degree in 1847. In the same year, Dr. Peck came to the "Quaker City" to set up his practice.
In the nineteenth century, JMC had a reputation for the highest standard in medical education but, unfortunately, also shared that era's racial and gender prejudices. In 1877, thirty years after the A.M.A. was founded in Philadelphia, Jefferson doctors protested the seating of the delegates from Howard University, the nation's most important black medical school, in part, because that school admitted men and women students in the same classrooms.
JMC's conservative admission policies rejected people of color and women until a brief period in the first decade of the 20th century when a tiny percentage of African Americans were admitted. But by World War I, the doors had again closed until the late 1940s.
This first generation of "Old Jeff" African American graduates laid down foundations and created original strategies to overcome barriers to not only succeed, but to excel, as they served their neglected community. This exhibition celebrates the remarkable achievements and lives of that handful of early pioneers.
"I believe that one of the greatest functions of history is to create inspiration,
to inspire us to do greater things than have been done."
- Dr. Henry M. Minton, M.D.
(Class of 1906)